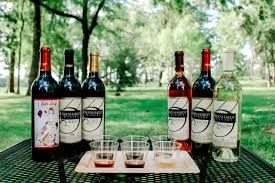 ACOUSTIC SATURDAY at BERNHARDT WINERY
February 13, 2021 1:30pm
What a picture perfect place for a Romantic Valentine Saturday Afternoon!
There's plenty of room to kick back on the beautiful, shady lawn with great wine and award winning musicians! Southern Disposition Band is a talented, energetic group featuring a Pinch of Country, a Smidge of Southern Rock, a Dash of Blues, a Pound of Fun and a Whole Lot of Bless Your Heart!
Debbie Glenn - Lead Vocals, Songwriter, Guitar
BIlly Hillman - Lead Guitar
Scott Nutter - Stand Up Bass
Michael Holleman - Drums, Guitar, Vocals
Cheese and charcuterie boards are available to order, picnics and coolers are welcome.
FREE for Bernhardt Winery customers, NO RESERVATIONS REQUIRED!